Eight public housing units in Mt Maunganui built for Accessible properties recently achieved Lifemark® 4-Star ratings for Universal Design levels that best support an aging occupant with changing needs. Accessible Properties,  a member of the IHC Group.  provides good quality, affordable homes and property management services to people with disabilities, older people, and those on low incomes.  Therefore, they have a strong focus on delivering Universal Design in their housing and have been very busy working with Lifemark® to achieve UD on multiple developments.
As everyone in the building industry can attest to it can be a long time between designing a project and project completion. Lifemark® first started working with Accessible Properties on the design of these units built by Classic Builders in 2019.
In February this year one year and six months later the eight units achieved final certification and the Lifemark team were thrilled to receive this happy photo from the team at Accessible Properties.
They say a picture can tell a thousand words and this one really can tell us a lot about Universal Design.
This is Steve, a tenant who lives in one of these eight units with his wife Robyn.
Steve and R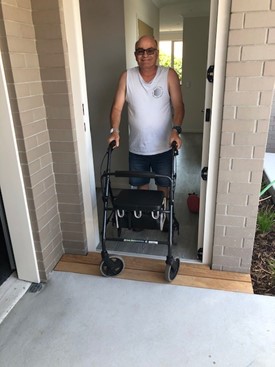 obyn are both profoundly deaf, and as you can see Steve uses a walker to get around due to his limited mobility.
Having a level entrance " is very good and makes all the difference " says Steve
With level entry he can walk independtly in and out of his own home.
We never know what life is going to through at us. Steve couldn't predict if or when he would need a walker.
Universal Design is also evident in Steve and Robyn's bathroom.
A hand rail and level entry shower makes showering eaiser with Steve able to "get into the shower and stand up with ease." Say's Robyn.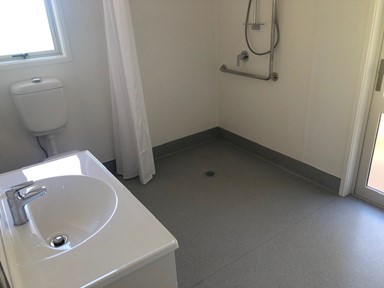 Steve and Robyn say they now "have a home that allows them to live independently and happily."
We asked where in their home they feel the happiest? they said it was definitely "relaxing in their lounge."
Dave Orrell the Project Manager of Tauranga Reconfiguration for Accessible Properties was involved with the design of these eight units and said it was very easy incorporate Universal Design.
Dave says "It was easy for the designers to incorporate Universal Design into these units, especially when we had already specified a number of the Lifemark® requirements into our standard house designs plans e.g. wider hallways, 860 doors, lever handles and tapware. Working with Lifemark®'s standards is like baking a cake – If you have a good recipe stick with it!"